Alternative Christmas Venues Manchester
Alternative Christmas in Manchester – with style
So here it is, the halls are decked and the heralds harked: Christmas is in full swing. This is it, the final weekend before Christmas, but why not try an alternative Christmas venue. 
Now, you could spend the final few days crawling the Christmas markets for the final touches to that perfectly thought out gift for your nearest and dearest. Or, you could settle for that half-baked scented candle and free hug voucher combo and spend your time on yourself. We see that devil on your shoulder – it's fine, your mum knows you love her anyway, probably. Looking for some alternative Christmas ideas?
If the main Manchester Christmas markets aren't your scene, why not try one of these alternative Christmas venues instead…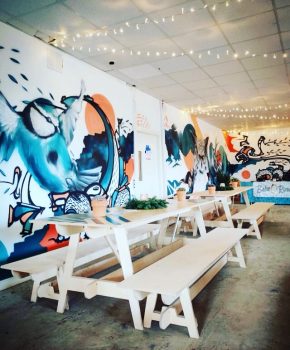 GRUB
Sitting pretty at its new Red Bank Projects location in the Green Quarter, GRUB features a rotating line up of some of northern England's best street food traders. Two separate bars featuring 22 craft beer lines, a dedicated kids' playroom and flexible events space makes GRUB the ideal place to take either the family or a group of mates. Better still, it's dog-friendly.
GRUB is well on its way to being a Manchester institution having spent the past two summers at the Mayfield Gatehouse and winters at Fairfield Social Club. Featuring the popular Plant Powered Sunday – Europe's first weekly vegan food event – GRUB is the modern market layered with cool. Good times are guaranteed.
Where: 50 Redbank, Manchester M4 4HF
Open: Fridays: 4pm – 10pm
Saturdays: 12pm – 10pm
(Plant Powered) Sundays: 12pm – 6pm
Stall
Not enough GRUB for you? Well, we have good news. The GRUB team are hosting Stall, an alternative Christmas market in Manchester's newly developed Kampus neighbourhood.
Featuring stalls from 20 different local traders, the market will sell everything from clothes, jewellery and homeware to food and drinks. 12 lines of locally-brewed craft beers and GRUB's 'Offy' bottle shop only just scratch the surface of the delights available. Vegan fish and chips, wood-fired pizzas and deep-fried calzones are just a handful of examples of the mouth-watering treats available.
Stall endeavours to work directly with business owners to ensure a close connection between maker and customer, building the relationship and understanding of the time and care that has gone into making everything on sale.
Open: Friday, Saturday and Sunday until December 22.
Where: Just off Aytoun St, Manchester M1 3AE
Levenshulme Market
The last Levenshulme Market weekend of the year will feature a bumper list of alternative Christmas attractions. Carols from the SHE Choir and unique twists on festive classics from John Hincock will provide the backing to what promises to be a party send-off to the market's debut decade.
As well as the Market Bar, there will be street food from Fritto, Little Yeti and The Ottomen amongst others. Meanwhile, the continuation of the Three Minute Portrait project gives you another opportunity to get your portrait drawn against the clock by a local artist.
A community-run social enterprise, the market is asking for donations to Mustard Tree this weekend, a Manchester charity supporting those homeless or in poverty in the local area. The marker is not-for-profit and focuses on giving back to the community, so your festivities will all contribute to a good cause.
Where: Stockport Rd, Manchester M19 3AB
Open: 5pm-9pm, Friday 20th December 2019
Altrincham Market
Following on from a special full week of the market, this weekend will see the final Altrincham market weekend before Christmas – though the market is be open on Christmas Eve. Open since 1879, the multi-award-winning market is home to upwards of 60 independent traders.
On top of the currently-running Christmas market, Saturday (21st Dec) will see the special Twilight Market featuring a cheese, bread and wine tasting. The event will feature regional cheeses provided by Winter Tarn Dairy, bread from the Lovingly Artisan micro-bakery and wine from Reserve.
The market is fully family-friendly and also dog-friendly, so you don't have to leave Rover at home. The market also offers plenty of gluten-free and vegan options.
Where: Greenwood Street, Altrincham W14 1SA
Open: Friday: 10am – 4pm
Saturday: 9am – 4pm
Sunday Twilight Market: 9am – 7:30pm
Christmas Eve: 9am – 3pm
Photo (Claire Harrison)
Mackie Mayors
Situated on the edge of the Northern Quarter in a grade II listed market building from 1858, the Mackie Mayor high-end food market boasts endless food options. Mackie Mayors was redeveloped by the brains behind Altrincham's reinvigorated market.
Featuring long German-style communal benches, the market is designed with a sense of community in mind. Grab some delicious speciality cuisine from a far-flung culture and come together to enjoy the spirit of diversity. It even has a really cute under the stair play area for the kids!
Showcasing a varied and mouth-watering array of small local food and beverage businesses, there is something for everyone here. The perfect way to end a day battling through the last minute Christmas crowd chaos.
Where: 1 Eagle St, Manchester M4 5BU
Open: Friday & Saturday: 9am-11pm
Sunday: 9am-6pm
Monday: Closed
Tuesday: 9am-6pm
The Lodge – Salford Quays
The Lodge is a sweet and warm pop-up tent in the heart of MediaCityUK and has been set up once again by the team behind The Dockyard.
A collection of teepees in the midst of a collection of other local business stalls draws you inside with its warm lights and bark chip floor. The bar sells a range of local beers from the nearby seven bro7hers and the city centre Runaway as well as a selection of hot drinks and soft drinks to keep the whole family happy.
If things get a little chilly the staff have a selection of blankets to wrap up warm in. A lovely intimate alcove of a venue to snuggle up to the ones you love and hide away from the Christmas crowds.
Where: Dockyard Pub, Media City, Salford M50 2EQ
Open: Mon-Sun 11am-11pm