Bee in the City: Can You Find Them All?
Manchester Sightseeing – Bee in the City 🐝
At the end of July the Bee in the City art trail launched across Manchester. The trail features over 100 super-sized bee sculptures and 130 little bees (although still much larger than an actual bee) all over the city. Each one has been uniquely designed by different sponsors and they have taken up residence in the city's streets, parks and public spaces. The designs celebrate Manchester's heritage across several fields, from industry to music and television, while simultaneously showcasing the creative talent in Manchester and public art in the city.
If you're wondering why this swarm has descended on the city it is because the bee is closely associated with Manchester and the city's identity. When the Industrial Revolution kicked off in Manchester is the 18th century with the arrival of the world's first canal and automated manufacturing process, people began to swarm to the city for work. The city was described as a hive of activity, with citizens buzzing around the factories like worker bees. The motif stuck around, and in 1842 the symbol of the bee was formally adopted when seven bees were incorporated into Manchester's official coat of arms. Nowadays the bee symbol adorns buildings, souvenirs, logos and even bins. We at Manchester Sightseeing have included a bee in our logo, as many other Manchester-based business have done as well.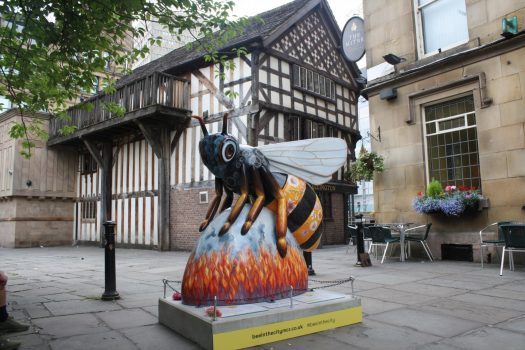 Manchester Sightseeing – Bee in the City
Giant colourful bee sculptures are therefore an excellent way to attract visitors to the honey pot that is Manchester.
We went out exploring the trail last week and discovered some spectacular bee sculptures. The Mr Bee-n sculpture in Cathedral Gardens was a personal favourite because of its nostalgic appeal. Walking the trail and finding the bees is a great way to explore the city, with many of the sculptures located in or nearby some of the city's top attractions. The designs are innovative and incredibly artistic. We highly recommend getting out and seeing these works of art bee-fore they're gone.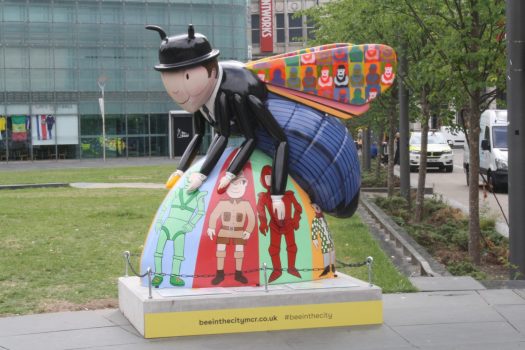 Manchester Sightseeing – Bee in the City
Written by: Dan Bridges
If you have any questions or comments, please let us know. Thank you.

Did you like this? Sign up for all the latest updates and posts!       Get FREE Updates