Christmas in Manchester 2018
🤶 Christmas time,
🍾 Mugs of Gluhwein,
🍻 Drinkers singing out of time,
🌇 Manchester's Markets are where you should be
🎅 With the Giant Santa that looks like Zippy.
Manchester embraces the Festive Season…
…more than any other city in the UK. While other cities can boast Christmas Markets, Manchester's are the largest and attract more visitors than any other – and the Christmas season last longer with the markets arriving a week earlier than anywhere else. According to booking.com Manchester's Markets are the best in Britain, and we would have to agree. They have grown dramatically since their first year in St Ann's Square when only 15 traders came from Frankfurt. This year there will be over 300 stalls at 9 locations across the city, with millions of people expected to visit. This is your guide to Christmas in Manchester 2018.
It's not just the markets that can provide you with a festive fix, however, there's a host of other Christmassy events taking places across the city in the lead up to the Big Day.
Here's our rundown of what is happening across the city this Christmas time:
🎅 Manchester Christmas Markets 2018
Where else could we begin this list other than with the Christmas Markets? Now in their 19th consecutive year, the city is set to welcome more than 300 stalls selling food, drink, crafts and gifts from all over the world. The stalls will be clustered in 9 different areas of the city centre – St Ann's Square, King Street, Exchange Street, New Cathedral Street, Exchange Square, Cathedral Gardens, Market Street, the Corn Exchange and Albert Square.
❆❆❆❆❆❆❆❆❆❆❆❆❆❆❆❆❆❆❆❆❆❆❆❆❆❆
The largest – and busiest – market will be at Albert Square, with the usual collection of stalls selling gifts, decorations, souvenirs, food and drink, all under the watchful eye of the giant Santa that looks like Zippy from Rainbow. The heart of the Albert Square market is the two-tiered chalet bar with an outdoor balcony. If you manage to find a spot on the balcony, you will be able to survey the whole bustle of the market below while looking deep into Zippy's twinkling blue LED eyes at his level. This prime spot will be coveted by all around and people will enviously look over their shoulder to check whether you're still there. When you do move on make sure to wander around the other locations as they are all different and often quieter than Albert Square. King Street in particular is more relaxed than other locations and a great place to stop for a gluhwein and take a load off when Christmas shopping.
☃☃☃☃☃☃☃☃☃☃☃☃☃☃☃☃☃☃☃☃
There will be food and drink from across the world at all locations, including the return of the Yorkshire pudding wrap that attracted such large crowds last year. If the queue is too big or they run out, there's equally as delicious food available elsewhere. Northern Soul, the grilled cheese innovators, will be selling their festive sandwiches; Amsterdam Frites will be making their Christmas Markets debut and their triple-cooked fries with a choice of 30 sauces and toppings sound mouth-watering; and there'll be the staple Christmas Market sustenance of bratwursts at every corner, of course.
🎄 Magical Christmas Movie Experience at the Mayfield Station
The iconic Mayfield station will be transformed into a Narnia-esque winter wonderland on the four weekends leading up to Christmas. In the railway arches of the old station, beyond a wardrobe and through an enchanted forest at the entrance, a pop up cinema will be screening festive favourites. There will be food and drink available so you can snuggle up under a blanket with a mulled wine while watching Christmas classics such as Love Actually, Gremlins and Home Alone. Many of the films will be accompanied by live music and dance performances for an immersive experience. And, on the 13th December, the greatest Christmas movie ever released in July will be screened. (This is Die Hard, but you already knew that. Yippee ki-yay)
For more information and to book tickets, visit magicalchristmasmovieexperience.com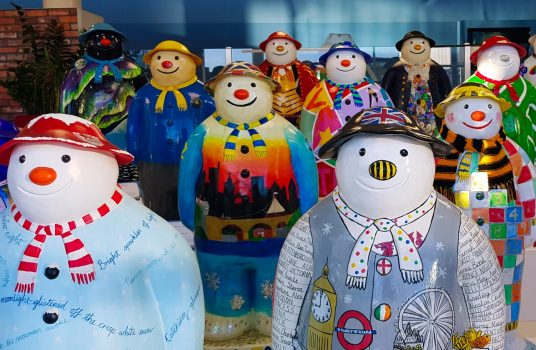 ☃️ Walking with the Snowman
The award winning team behind Bee in the City, which drew so many people to the city over the summer, are returning to Salford this Christmas with a sculpture trail at Media City. There will be 12 giant snowmen, each individually painted along the theme of the 12 Day of Christmas, placed around Media City. The trail celebrates the 40th anniversary of Raymond Briggs' classic children's book The Snowman. Smaller sculptures painted by local schools will be joining the trail in early December. At the end of the event the giant sculptures will be auctioned off to raise money for Children in Need.
The show starts on November 22nd 2018 and is available to see until January 6th 2019.
❄️ Ice Village
Manchester will welcome the UK's first dedicated ice attraction this year. Located in Cathedral Gardens the Ice Village will be home to an Ice Cavern, an Arctic Bar, an Ice Rink and Santa's Grotto. There will be plenty to do for adults and children alike: you can grab something to eat and drink, enjoy some arctic games, shop for some gifts, get your skates on or pay Santa a visit. You will have to pay to visit the attractions but the magical experience will be worth every penny.
The Village will be available to see from November 9th 2018 up until January 5th 2019.
🎁 Theatres
The festive season is a big one for theatres and this year is no exception. Musical mega-hit Wicked is coming to the Palace Theatre, while the Lowry has Dr Doolitttle and The Stickman. The Opera House's pantomime this year is Cinderella, featuring the usual cast of soap and TV superstars, including Connor McIntyre, Les Dennis, Shannon Flynn, Ben Nickless and Hayler-Ria Christian.
🎉 Winter Funland
Winter Funland, at Event City opposite the Trafford Centre, will be the North West's largest indoor winter wonderland when it opens. It looks set to be the premier family Christmas destination, with funfair rides, an ice skating rink, a circus and theatre show all under one roof. Santa will even be in his grotto with two of his reindeer, Rudolf and Dancer, until Christmas Eve. Visitors will need to book tickets but the entrance fee includes access to all of the attractions once inside.
Winter Funland starts from December 7th 2018 until January 1st 2019 – Book your tickets now
A BIG Merry Christmas to all our fellow Mancunians and readers far and wide!
Written by: Dan Bridges
If you have any questions or comments, please let us know. Thank you.

Did you like this? Sign up for all the latest updates and posts!       Get FREE Updates