Day Trips from Manchester Sightseeing: Visit Gothic Chester!
Chester is a city that is high up on overseas visitors' agendas – and for good reason. Chester is another walled city in the North West with an illustrious history, from the Romans right the way through to the present day. For visitors based in Manchester, there is no better way to see the city of Chester than on a day trip with Manchester Sightseeing.
We offer 2 different day trips to Chester – one that includes an all-day hop-on, hop-off bus ticket, a 30-minute river cruise and walking tour with a professional guide, and one that includes lunch at Chester Cathedral and a walking tour with a professional guide.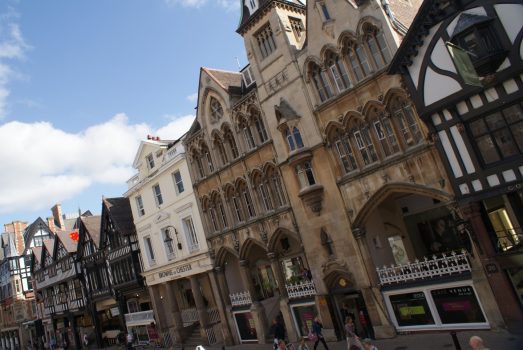 The first day trip to Chester gives a comprehensive tour of Chester – by bus, by boat and by foot. Once you arrive at Chester train station, catch the hop-on, hop-off sightseeing bus from right outside the station exit and head into the city. The bus is an excellent way to explore and has stops at all the main attractions in the city. There is also an informative commentary on board so you don't miss any of the sights. The bus calls at The Groves on the River Dee, where the Chester Boat departs from. On the half-hour city cruise, you will travel upstream to the city limits, seeing the city of Chester from a different perspective. The tranquil cruise is an excellent way to explore Chester with the opportunity to see some beautiful riverside properties and spot some of the local wildlife that lives along the banks of the river. Finally, the day trip includes a 90-minute walking tour with an official tourist guide. The local guides are extremely knowledgable and you will discover much of Chester's fascinating and long history on one of their tours.
Go Gothic!
Our second day trip to Chester includes a walking tour as above together with a lunch of soup and sandwiches at Chester cathedral's Refectory Cafe. Chester Cathedral was founded as a Benedictine Abbey in the 11th century and now boasts the most complete collection of monastic buildings in the country. Rebuilt in the Gothic style in the 13th century, it is now one of the UK's most beautiful cathedrals. After exploring the cathedral, enjoy a delicious lunch in the cathedral's Refectory cafe.
During each day trip to Chester, there is ample opportunity for you to explore at your own pace with plenty of free time. Your train ticket is valid on any train between Chester and Manchester all day, so you are free to return when you wish. Whether you see something on the bus or walking tour that you want to explore in more detail or you want to shop on Chester's two-tiered medieval shopping galleries, The Rows. Whatever you choose to do, we will provide all the information you require. Our day trip includes a travel pack with maps, travel tips, local information and even suggested places to eat and drink so you can make the most of your day exploring Chester.
Written by: Dan Bridges
If you have any questions or comments, please let us know. Thank you.

Did you like this? Sign up for all the latest updates and posts!       Get FREE Updates