Valentine's Day in Manchester
Valentine's Day in Manchester – date ideas
Love is in the city streets and Valentine's Day in Manchester is fast approaching! If a candle-lit dinner for two, a quick game of footsie under the table and a few whispered sweet nothings isn't really your style, we've got you covered!
With that special someone in mind, we have put together a list of our favourite Valentine's Day date ideas. No boring dinner dates here, we're embracing the unorthodox and exciting. Better still, they're all based in Manchester.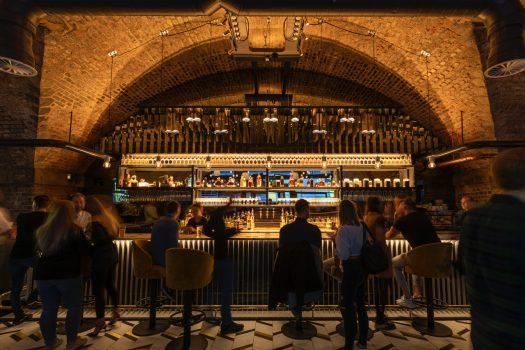 Fancy yourselves connoisseurs of the nations favourite juniper flavoured tipple? Why not book a gin tasting experience for two at Manchester Gin's very own distillery under the railway arches of Manchester.
With a gin and tonic on arrival, tasting of 4 different gin flavours, as well as a tour of the distillery, turn your Valentines drinks into an experience. Don't forget there's also a 10% discount in the shop with your booking so we've got your back if you've left the gift-buying until last minute!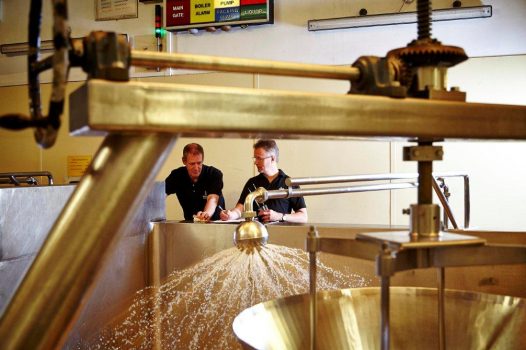 If a pint is more your style, a tour of Robinsons brewery might be right up your street! Complementing a guided tour of the brewing process you'll also be able to enjoy beer tastings with package A, or if you want to take it up a notch, Package B includes a 1-course meal as well as a gift from the brewery included!
Victoria Baths without the swimming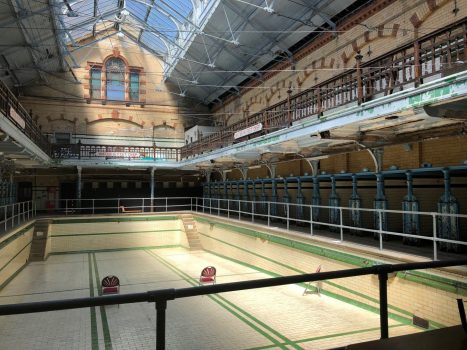 If you were hoping to go for a swim, you're out of luck at Victoria Baths. They do however have two Valentine's Day movie screenings in an empty swimming pool!
Starting with True Romance playing on the 14th of February, followed by Bridesmaids showing on the 15th of February; grab some fresh popcorn before snuggling down on sweet, candy-striped deckchairs inside the Gala Pool. It's a little bit chilly in there, so remember your blankets!
Valentine's cinema. Doors open at 6:30 pm and the films start at 8:30 pm.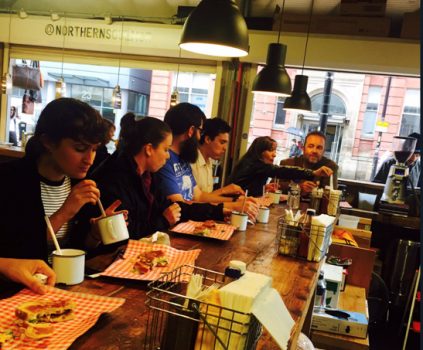 The perfect afternoon for any foodie couple! Enjoy a fascinating take on Manchester's history and culture combined with edible treats along the way.
Your Food Walk will take you around the vibrant Ancoats neighbourhood, sampling some of the best grub Manchester has to offer. This is a private tour lasting around two hours, so you'll have plenty of opportunity to bond over some Manchester treats.
Manchester Food Walks – Ancoats Taster
Caffeine-fulled coffee crawl
Manchester has plenty to offer in terms of artisanal coffee. You only have to walk up Oldham Street in the Northern Quarter for the tip of the iceberg in Manchester's' best coffee houses.
So if your ideal Valentine's is one spent with a hot cup of Joe, spend a caffeine-fuelled afternoon sampling as many flat whites as you can manage – some of our favourite coffee spots in the city are:
Fig + Sparrow, 20 Oldham Street, M1 1JA
Evelyn's Cafe & Bar, 144 Tib Street, M4 5JJ 
North Tea Power, 36 Tib Street, M4 1LA
Pot Kettle Black, Barton Arcade, Deansgate, M3 2BW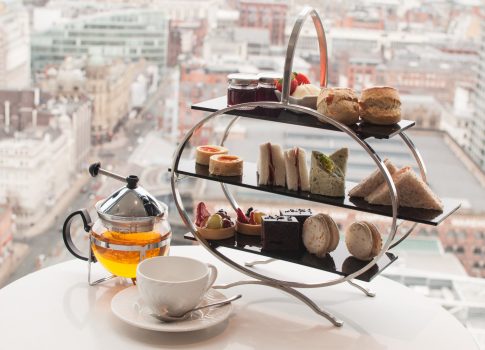 You can enjoy afternoon tea with a view at Cloud 23 for only £22 per person. Enjoy a selection of finger food, including sandwiches, scones, and cakes against the backdrop of panoramic views over Manchester and beyond through the floor-to-ceiling windows for an indulgent afternoon.
Enjoy some live music
Manchester was once named the 'most musical' city in the UK. You're not short of live music to suit any musical taste in this city. If you're a pair of jazz fans, head down to Matt and Phred's at 64 Tib Street.
Band on the Wall also has plenty of gig listings throughout the week – on the 14th lookout for Sambroso All Stars Present: The Buena Vista.
Spend an afternoon getting cultured
On a budget but still want to get out and do something? Manchester has plenty to offer for a cultural afternoon in the city – and the best part is they're all free!
Start your day at the Central Library, where there are exhibitions on the history of Manchester's people. Just down the road from the Central Library is Manchester's Walker Art Gallery. Marvel at classic painting and contemporary art before stopping by HOME, a centre for the arts opened with the help of director Danny Boyle.
The Manchester Open Art 2020 exhibition will be running until the 29th of March too, featuring art created by the residents of Greater Manchester. It's the perfect romantic afternoon for the broke artist couple.
Retro throwback
Take a trip down memory lane and relive your childhood at one of Manchester's arcade bars. Impress your date with your Pinball and PacMan skills, go head to head on Street Fighter or even get on the Dance Mat and watch your steps! Some arcade bars Manchester has to offer are:
NQ64, 9 Short St, M4 1AA
17 Below, 17 Bow Ln, M2 4FW
7SINS, 43-45 Lever St, M1 1FN
Disclaimer: We cannot be held responsible for any breakups caused by a couple's competitiveness.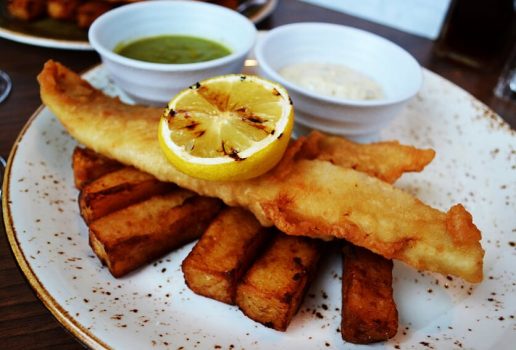 Still fancy a meal for two but not feeling the candlelight? Treat your other half to the English classic: Fish and Chips at the Podium restaurant situated in the Deansgate Hilton Hotel. You and your significant other can also enjoy a glass of Prosecco perfectly complimenting Fish and Chips for only £20!
Fish and Chips with Prosecco for Two at Podium
Or just look out for number one!
You don't need a significant other for any of these date ideas. If you're single, self-partnered, or just flying solo, make Valentine's Day your own and embrace it!
Taking yourself out on a date has its perks: it saves on arguments on where to go, you can go home as late or as early as you want and you don't have anybody stealing your chips when they said they didn't want any!
So you have no excuse to be short of Valentine's Day date ideas. If however, you're struggling to think of a romantic gift for the special occasion, we have a range of gift vouchers available which you can find by clicking the photo below!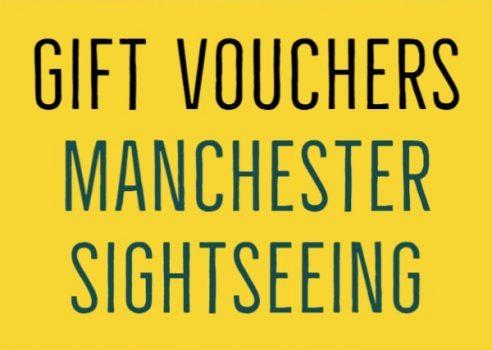 Happy Valentine's Day!