A Student's Guide to Manchester
Welcome to Manchester!
The greatest city in the world. Famous for football, cotton and seemingly never-ending rain. You've chosen a fantastic city to spend the next few years in and we're delighted to have you here with us. Moving to a new city (or an entirely new country, for some of you) is a daunting experience and it can be tricky to get yourself orientated. So here is our Student's Guide to Manchester to help you get settled in:
Where to drink…🍻
Manchester's bar and pub scene is booming. There truly is something for everyone. From student favourites such as The Font, Joshua Brooks, Sandbar and Big Hands, to traditional boozers like the Briton's Protection, Peveril of the Peak and the three Chop Houses: Mr Thomas', Albert's and Sam's. For al fresco drinking there's The Oast House, The Wharf and Rain; for hidden speakeasies you've got the Washhouse, Temple Bar, Science and Industry and Wood and Co. Beer aficionados should look no further than Cloudwater Brewery Tap, The Marble Arch, The Knott, Bock and Port Street Beer House. Craving cocktails? Head to Arcane, Dusk til Pawn or, for cheaper drinks, Be At One. If you're feeling a bit flush, then Cloud 23 and 20 Stories provide unparalleled views across the city, but you will have to pay for the privilege. This, by all means, is not an exhaustive list and only scratches the surface of what is on offer in the city, but it shows that the drinking scene in the city is very diverse.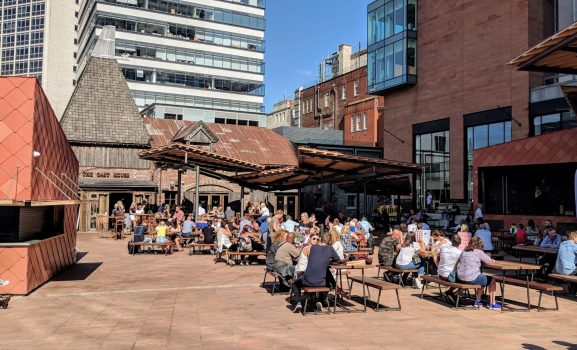 The Oast House – Perfect for al fresco drinking
Where to party…🎉
As you might have guessed from the range of drinking establishments in the city, there are also plenty of clubs to choose from. The more popular ones, particularly with students, are Fifth, Crazy Pedro's, Mojo and 42nd Street. Other venues include FAC251 (which is owned by Peter Hook formerly of New Order and co-owner of the Hacienda), The Venue and Gorilla. Then there is a typical selection of city-centre clubs along Deansgate Locks with a Lola Lo, Revolution, and Coyote Ugly. At the Printworks, Tiger Tiger, Lazy Lizard and the Bird Cage draw revellers until the early hours. In the Northern Quarter, every street is populated with bars and clubs that are open until the small hours of the morning.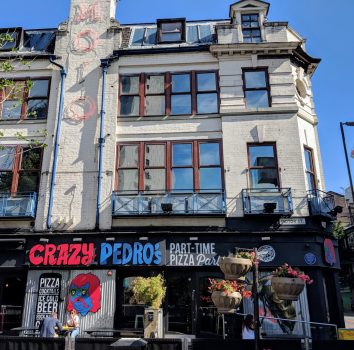 Mojo and Crazy Pedro's
Where to eat…🍔🍕
Manchester has an excellent and varied food scene, with restaurants and eateries influenced by cuisines from all over the world. It is still, unfortunately, lacking a Michelin star, but no one can afford foie gras and potato foam on a student loan anyway. For a quick lunch then head to the Arndale Food Markets, where traders from all over the world provide fresh and delicious food. Next to the Arndale, and now also near Piccadilly Station, Northern Soul offer unique and decadent twists on the humble cheese toasty. Almost Famous and their sister restaurant, Luck Lust Liquor and Burn, in the Northern Quarter, do likewise with burgers and burritos respectively. Rudy's, in Ancoats and on Peter Street, serve up the best pizzas outside of Naples.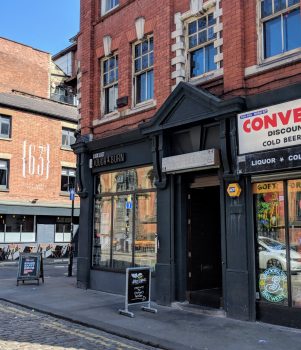 Luck, Lust, Liquor and Burn and Almost Famous
Where to go for coffee…☕️
There is a whole world of excellent coffee beyond the likes of Starbucks, Costa and Nero, and there are many establishments serving excellent coffee in Manchester. Atkinsons Coffee Roasters, based in the Northern Quarter, roast their own coffee (as the name suggests). Grindsmith Coffee, with two larger venues at Media City and on Deansgate and a coffee 'pod' in Greengate Square, claim to be masters of their craft, and their coffee is great. Pot Kettle Black, in the Barton Arcade and Spinningfields, are passionate about their coffee and extracting as much flavour as possible; they also have a vibrant breakfast and lunch menu. Ezra and Gil, just off Stevenson Square in the Northern Quarter, aim to be a true neighbourhood hangout, with the highest quality ingredients they can source. Chapter One Books, although an independent bookshop, has a cafe serving coffee and cakes to accompany their selection of books. All of these places offer fantastic coffee and hot drinks, and spaces to get on with some work or simply to relax with a book while the rhythms of the city beat around you.
What to do to get to know the city…📕
The best way to get yourself up to speed with Mancunian history and learn how Manchester became the city it is today is on the daily Discover Manchester walking tour. The tour departs from the Central Library everyday at 11am and visits several of the major landmarks in the city, each of which played an integral part in Manchester's vibrant history. From the city's Roman origins, through the Industrial Revolution, to Madchester and football, the walking tour provides an excellent introduction to Manchester. Or, if the weather is 'anging, hop on the sightseeing bus and shelter from the elements on the lower deck while touring Manchester and neighbouring Salford. There are also several museums and galleries that detail the city's history, including the Museum of Science and Industry and The People's History Museum.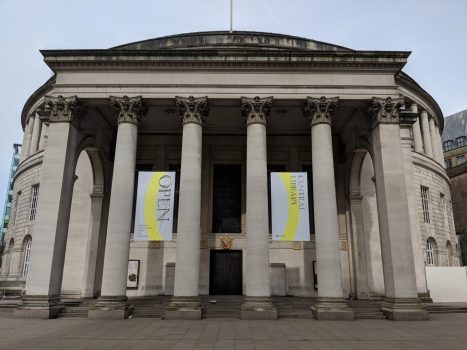 Manchester Central Library
Where to take your parents…🎭
When your parents come to visit and want to see how you're spending your time at University, you can't really take them to the SU for jaeger bombs and pool. Luckily, Manchester is full of parent-friendly activities; a whole heap of them are free as well. Check out our Top 10 Free Things to Do in Manchester guide for our pick of the free activities, all of which are parent-suitable. There'll still be time for them to take you for a big shop to stock up on essentials afterwards, like potato waffles (which can be cooked in a toaster, if you weren't already aware).
Manchester City art gallery ©visitengland, Diana Jarvis
What to do when you want to get out of the city…🚆
When the crowds of the city centre become too much, there are plenty of places to escape. Just outside of the city centre there are several beautiful green spaces that feel a million miles from the city. Heaton Park, Europe's largest municipal park, is only a short tram or bus journey from the centre. Sale Water Park and Chorlton Water Park form a picturesque green belt just outside of the city along the River Mersey, with ample opportunity for walking and wildlife spotting. If you want to go further afield, Manchester's location and transport links make it a great base from which to explore the wider region. The Lake District and Peak District are just a short train journey away, as are the cities of Liverpool, York and Chester. Check out our selection of Day Trips by train from Manchester Piccadilly to see where you can go.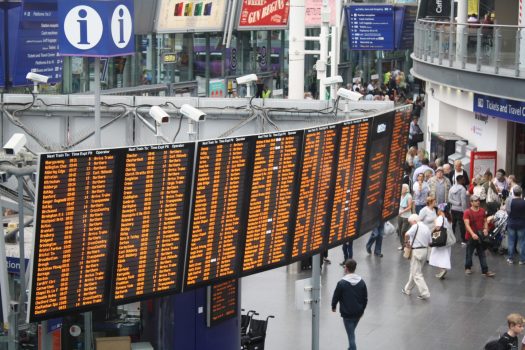 Manchester Piccadilly
So there it is. A (very brief) student's guide to Manchester. It hasn't told you where the student support centre is, or where the best seats in the library are, or even when the yellow-stickered food comes out at Asda, but you'll work that out on your own soon enough (or pester your RA for immediate answers, it's what they're there for). But it has proven that Manchester really does have everything, except a beach.
Written by: Dan Bridges
If you have any questions or comments, please let us know. Thank you.

Did you like this? Sign up for all the latest updates and posts!       Get FREE Updates