Manchester Halloween Guide 2018
🎃👻🦇🧛‍♂️⚰️😱
It's the most spookiest time of the year,
With the kids trick or treating
And everyone telling you better beware
It's the most spookiest time of the year.
It's the sc-scariest season of all,
With those Halloween greetings,
And well scary meetings when ghosts come to call
It's the sc-scariest season of all
🎃👻🦇🧛‍♂️⚰️😱
Skull – Courtesy of Pixabay
Halloween is fast approaching and it seems that every year it is becoming more and more of a big deal. When once upon a time suburban houses would simply put out a token pumpkin next to a bucket full of multi-pack sweets or hang a sign warning off trick-or-treaters and there might be a low-key party somewhere with apple bobbing and cardboard skeletons, nowadays there is a whole host of events to get your plastic vampire teeth stuck into. So dust off your scream mask, air out your white bed sheets and slap on some eye-liner whiskers and get out there for these spook-tacular events.
Trick or Treat – Courtesy of Unsplash
🍬 The BIG Trick or Treat Trail. Various locations across the City
27th–28th October
Four Trick or Treat houses will be located across the city – with a different monster in each waiting for you to knock. Grab a map from the Tourist Information Office for the spooky locations. If you brave every house and get them checked off, then you will receive a sweet treat in St Ann's Square.
👻 Ghostly World Record Attempt, Exchange Square
27th October
The Heart of Manchester BID is organising an attempt to break the world record for the largest gathering of ghosts, which currently stands at 650. They ask that you register for the event online here, as only pre-registered ghosts will be admitted to the attempt area on the day. Once registered, you simply need to turn up with your white bed sheet (remember to cut eye holes) and wait around to be part of the record attempt. Heart FM DJs will provide entertainment and there will be collections to help the homeless of Manchester. As it is Manchester and the end of October, they advise participating ghosts should bring a brolly.
Dogs dressed as Ghosts – Courtesy of Pixabay
🎃 The Spooky Pooch Costume Show, Exchange Square
28th October
This is the must-see Halloween event that we are most excited about. I once went to dog costume show and it was definitely one of the top 5 days ever. Manchester's very good boys and girls will be strutting their stuff in their scariest Halloween outfits. If you want to enter the show, you will need to register here. Pooches must be accompanied by a person who is dressed in a matching or complementing costume. The best in show will be chosen by the judges and will receive a prize. Otherwise, just turn up and enjoy what is sure to be the most adorable fancy dress party you will attend this year.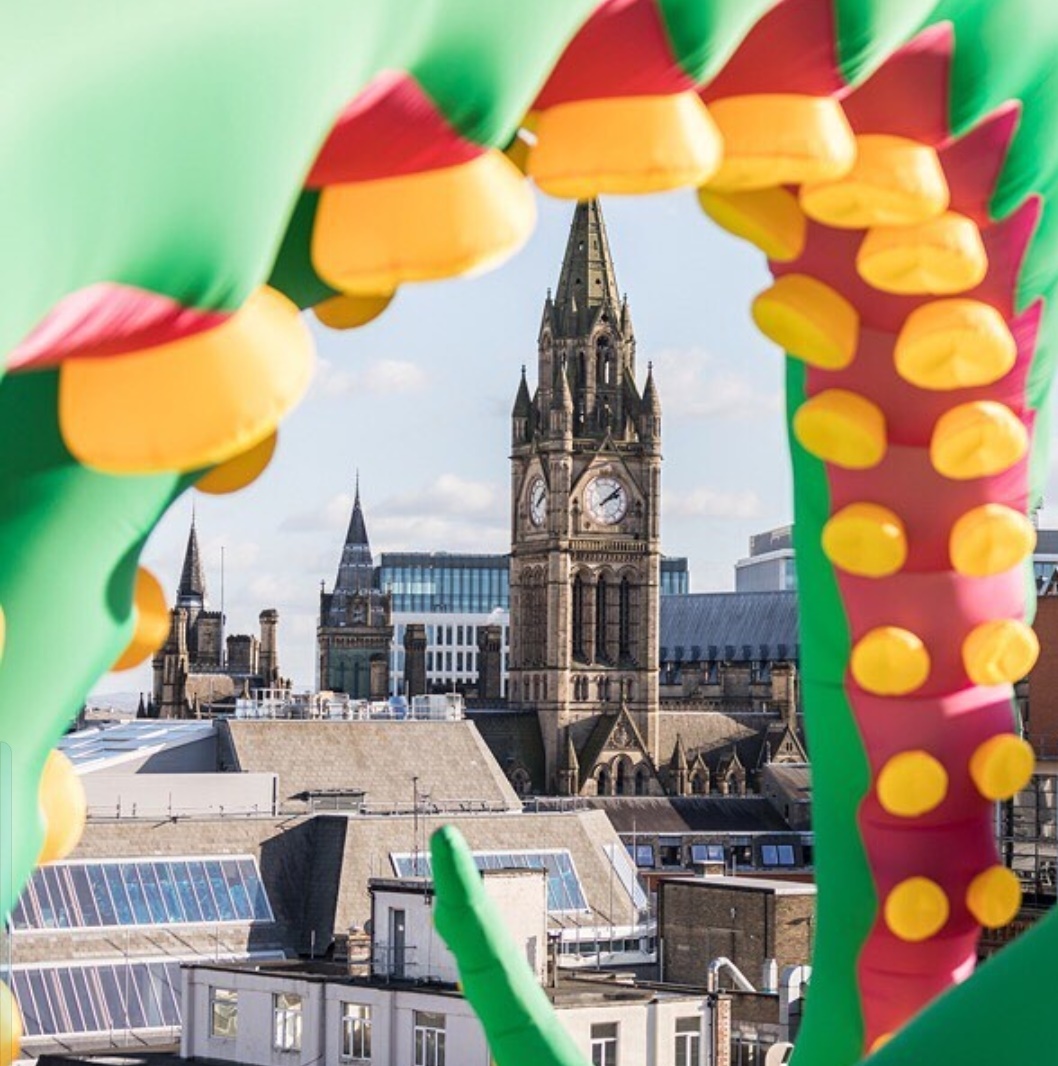 Instagram – MayfieldManchester
🧛‍♂️ Monster Invasion! Various locations across the City centre
25th-28th October
Monsters will invade Manchester over the weekend before Halloween. In trees, on top of buildings, peeping from windows: they will be all over the city. The giant green tentacles that sprouted from Kendals last year will take over even more of the city this year. Can you spot them all?
🧚‍♀️ Enchanted Forest at St Ann's Square
27th-28th October
St Ann's square will become an enchanted forest as 30 4m tall beech trees take root. They will be home to magical creatures and a witch's hut (part of the trick-or-treat trail). There will also be family-friendly activities such as a witches' bootcamp, face painting and sweet treats and you will even have the chance to meet the witch from Julia Donaldson's Room on the Broom.
🦈 JAWS at The Village Screen, Victoria Baths
25th , 26th and 27th October
If you've ever dreamed of watching Jaws from the bottom of an empty swimming pool, then this Halloween you will have the opportunity of fulfilling your weirdly specific fantasy. The Village Screen will be setting up at the Victoria Baths and will show a selection of Halloween favourites across 3 consecutive nights. Spielberg classic Jaws is scheduled for 25th October, with The Lost Boys and Witches on the following nights. Beforehand, DJs will be spinning Halloween classics (the Ghostbusters theme and Thriller on repeat, hopefully🤞) while local street food vendors will be serving some delicious food and drinks will be available from the Village Screen bar.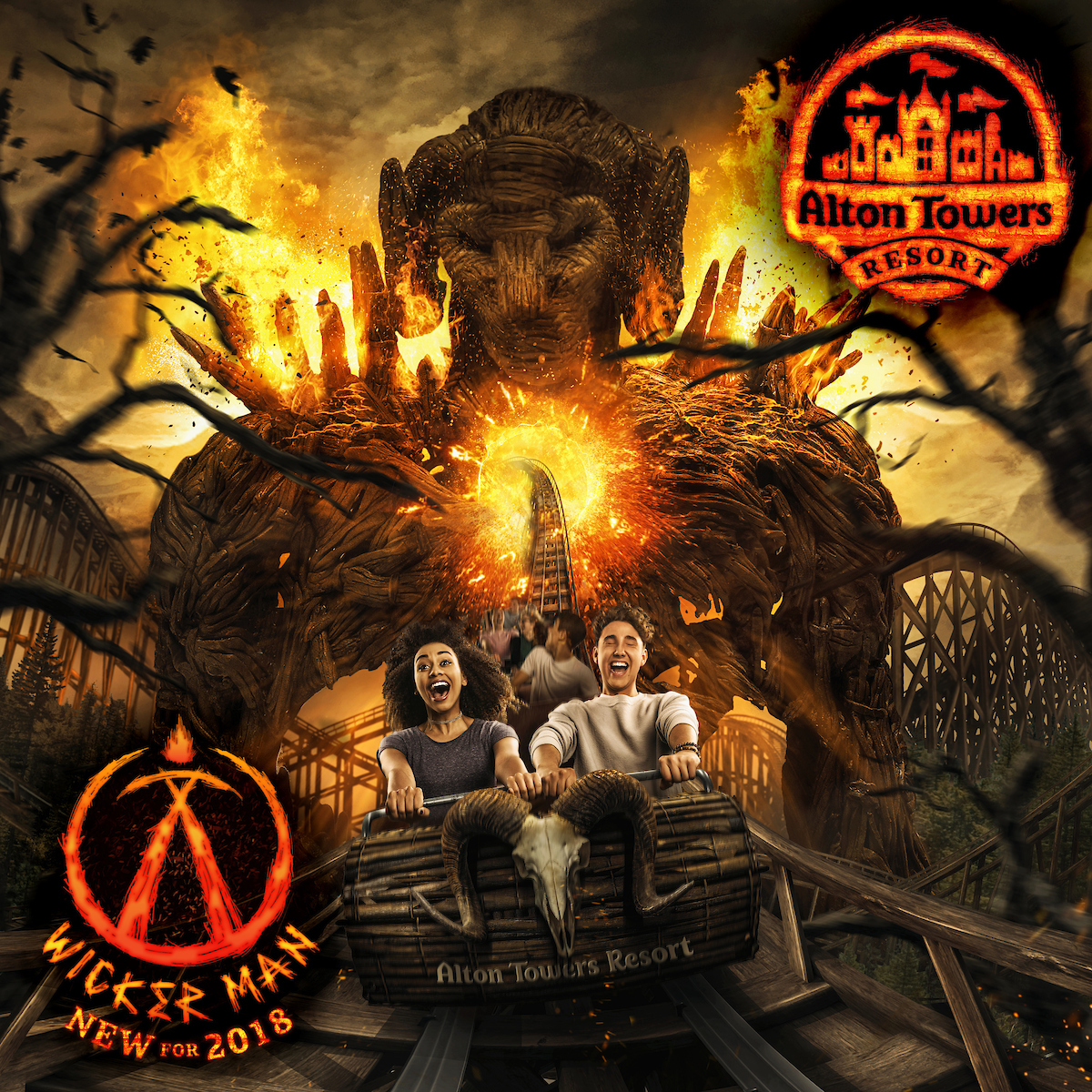 Alton Towers Resort – Wicker Man – Theme Park – Photo courtesy of Alton Towers Resort, Merlin Entertainments
😱 Scarefest at Alton Towers Resort
13th-14th, 19th October – 2nd November
If you want to get out of the city then Alton Towers Resort's annual scarefest is an excellent option. Here's what they have to say about it:
'Are you ready to join us at this year's terrifyingly fangtastic Scarefest event with spooks, frights and thrills for everyone?  This unmissable event takes place on selected dates in October/November when the Resort becomes home to Halloween. Open until late so you can enjoy your favourite rides in the dark and for the first time Wicker Man's flames lighting up the night sky!  For younger visitors, there are live shows, a new addition to our famous 'freaky four' to meet, whilst older families will find laughs and frights in our House of Monsters maze. And for those in search of spine-tingling terror, you'll need your wits about you when you enter our terrifying scare mazes…'
Sounds spooky. Check out our Day Trip to Alton Towers Resort from Manchester here.
There is plenty opportunity to get your scare-fix over the next couple of weeks. Get out and make the most it because as soon as the pumpkins and skeletons come down, it'll be candy canes and mistletoe replacing them and before you know it the Christmas Markets will be back!
Written by: Dan Bridges
If you have any questions or comments, please let us know. Thank you.

Did you like this? Sign up for all the latest updates and posts!       Get FREE Updates