Manchester to the Lake District
Manchester to the Lake District
Explore the best the North West has to offer with Manchester Sightseeing Tours
Did you know we've put together an easy-to-follow itinerary from Manchester to the Lake District so you don't have to! Not only that but in your package, we include your train tickets to Windermere, as well as tickets for all-day bus travel, Lake Windermere cruise, and the World of Beatrix Potter, all in one easy pack that allows you to make the most of your day out to the Lake District! We do the organising so you don't have to!
We at Manchester Sightseeing trialed the journey ourselves, here's our verdict!
Starting from Manchester Piccadilly we boarded the train to Windermere, enjoying the gorgeous countryside of Lancashire up to the Lake District with a quick change at Oxenholme. Before we knew it we arrived at Windermere station and found the stand with no problem for the 599 bus to Grasmere.
When in Rome… Or in our case, the Lake District, you simply have to ride the upper deck of an open-top bus, come rain or shine and take in that fresh air and panoramic views; we were lucky to have the sun shining on our day to the Lakes. However, the British weather is unpredictable at best, so it does pay to be prepared for all weather. But remember, you can't have lakes without rain!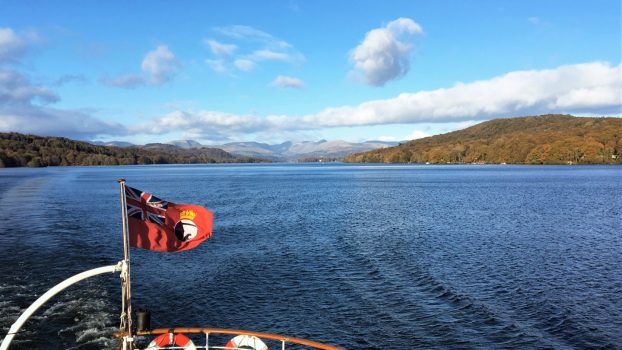 Lake Windermere
We arrived in the quaint village of Grasmere, the home of the famous poet William Wordsworth and made our way to Grasmere gingerbread. Now forget what you know about gingerbread; Grasmere gingerbread is a whole new experience, this gingerbread has been made since the 1850s in what was once the village school. This intensely ginger biscuit crumbles in your mouth in a taste explosion; it definitely isn't to be missed.
A quick pit stop at Lucia's Takeaway Coffee Shop to pick up a sausage roll for lunch and we head back on the bus to the next village – Lakeside, where we climb aboard the Swan 'Steamer' boat and enjoy a relaxing cruise across the lake with the wind blowing in our hair, enjoying the dramatic landscape surrounding Lake Windermere.
Windswept, we arrive at Bowness-on-Windermere pier and pick up a coffee from one of the lovely cafes on the shores of the lake, the locals here are lovely and friendly and we received our coffee with a warm welcome.
Next stop, the World of Beatrix Potter! For a nostalgic revisiting of our childhoods, cherished bedtime stories are brought to life in this exhibition dedicated to all things Peter Rabbit and Jemima Puddle Duck. We wandered around Mr. McGregor's garden, ears pricked in case he came with his rake to chase us away! A quick look in the gift shop for some souvenirs and our day is coming to an end!
Just before heading back on the bus to the train station we stop at the Hole in t' Wall Inn for a cosy drink and a snack. A last farewell to Lake Windermere, and we're on our way back after a busy day of exploring.
There's plenty to see and do on our day trip to the Lake District, you're sure to be returning home having had a great day out with new memories to cherish. Even if the Lake District is completely unfamiliar to you we're on hand with some excellent advice and recommendations and we're only on the other side of the phone if you have any questions whilst out and about. This tour is not to be missed!
Trips available every day (except Christmas Day, see availability)
Written by: Ffion Hughes and Michelle Tatton
If you have any questions or comments, please let us know. Thank you.

Did you like this? Sign up for all the latest updates and posts!       Get FREE Updates