What To Do When It (Inevitably) Rains in Manchester
One of the greatest summers on record is coming to an end. The long days of clear skies, soaring temperatures, World Cup Semi-Finals and potential hosepipe bans are firmly behind us. Evenings are getting darker and temperatures are steadily falling; and normal service is returning to Manchester as the clouds close in and the rain returns. Now that dry weather is no longer certain, it is best to have a backup plan of what to do when it rains in Manchester.
After one of the driest periods in the region's history, the threat of rain is now looming over Manchester almost daily. Surprisingly, despite the city's reputation as one of the wettest places in Britain, Manchester receives less than the national average of rain in terms of mm. In terms of the amount of days on which it rains, however, Manchester ranks highly. Surrounded by hills, the city is often grey and plagued by a persistent drizzle. Woe is he who ventures out for a day in Manchester with neither umbrella nor waterproof jacket.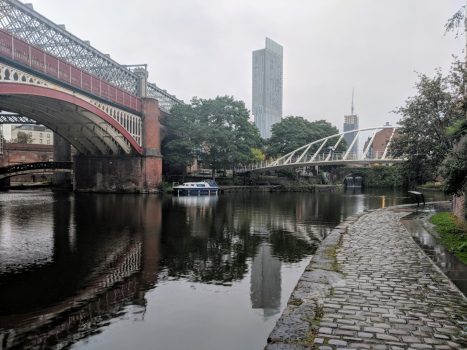 A typical Manchester outlook – grey and drizzly ☂️
If you don't go out in the rain in Manchester, you'll never do anything. So here's our pick of activities for when the heavens open:
Ride the Open-Top Sightseeing Bus
'Open-top bus in the rain, are you mad?' is what you're no doubt thinking. But, hear me out before you close the page. The front of the top-deck is covered and there is a lower deck to shelter from the rain, or you could even brave the elements on the top deck if you come prepared. However you choose to ride the bus, you will see Manchester and Salford as they were no doubt intended to be seen: grey and wet, as if lifted straight from a Lowry painting. And, if the sun breaks through the clouds, the sights of the city look no better than when glistening in the sun after a shower. It's a sight you need to see! Book your tickets here.
Visit a Museum or Gallery
Manchester is home to some fantastic museums and galleries, housing some of the most important collections of artefacts and artwork in the world. Between them they showcase Manchester's global role across several fields and industries. From the National Football Museum and the Museum of Science and Industry, to the People's History Museum and Manchester Museum, galleries include the Whitworth and the Manchester Art Gallery. Best of all, they're all free to visit. Check out our exclusive list of 'Free Things to Do in Manchester' for more information.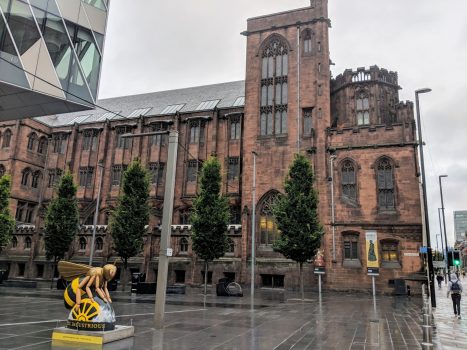 The John Rylands Library – Perfect to shelter from the rain 🌧️
Get Creative at Legoland Discovery Centre and Go Under the Sea at Sealife
The Legoland Discovery Centre and the neighbouring Sealife Centre offer a day's worth of activities sheltered from the rain. And with our exclusive discount you can save 30% on the entry fee simply by downloading a voucher here. Legoland has rides, a cinema and hands-on Lego building, while Sealife showcases some of the most beautiful and iconic creatures and simultaneously educating visitors on how we can best protect these important animals and preserve their habitats.
Shop 'til You Drop at The Trafford Centre
Even though Manchester city centre and the Arndale have almost every base covered when it comes to shopping, you will get wet travelling between the shops. At the Trafford Centre, meanwhile, you will remain sheltered and forget that a world where it rains all the time even exists outside of the shops, restaurants, cinema, crazy golf, bowling and laser quest onsite. And with our Little Book of Treats, downloaded here, you will save money as well.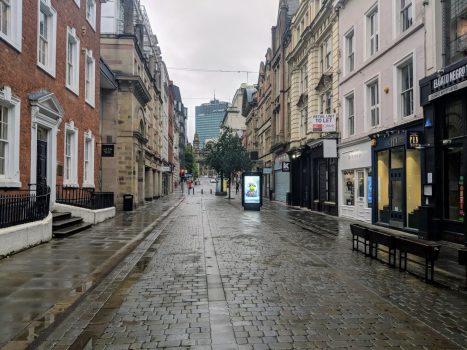 A wet and deserted King Street – everyone must be at the Trafford Centre ☔️
Shop Some More at Afflecks
Afflecks is an 'emporium of eclecticism' in the heart of Manchester's bohemian district, the Northern Quarter. With a whole host of independent traders flogging everything from jewellery to retro games, and plenty of other goods in between, it is almost certain that you will come away with a bargain that you didn't even know you needed. There are also hairdressers, tattoo parlours, cafes and even a cereal bar to keep you busy and, importantly, dry.
Get Competitive
There are plenty of ways to take part in some friendly competition indoors in the city. Dogbowl and All Star Lanes offer 10 pin bowling; Junkyard Golf houses 3 crazy golf courses fashioned from reclaimed junk; both TwentyTwenty Two and Roxy Ball Room have pool and ping pong. Many pubs, bars and cafes also have a selection of board and card games. Or, if you want to try something novel with a hint of adrenaline, why not give axe throwing a go at Whistle Punks?
Search Out Less Rain-Prone Places
When I used to live in Liverpool and it was raining, I used to console myself that it was almost certainly wetter in Manchester. So if the weather in the city is awful, why not head to where the weather is better and drier. Check out our selection of Day Trips to see where you can go. (Please note that better weather is not guaranteed).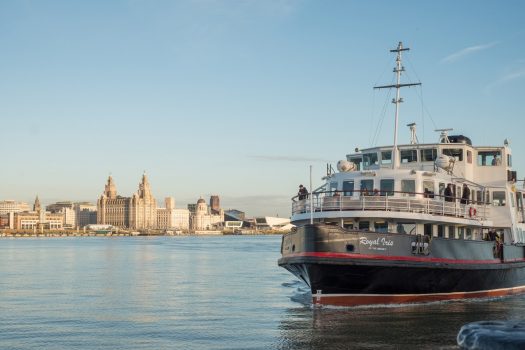 A very dry Liverpool – Mersey Ferries – Royal Iris of the Mersey © Mersey Ferries
Written by: Dan Bridges
If you have any questions or comments, please let us know. Thank you.

Did you like this? Sign up for all the latest updates and posts!       Get FREE Updates